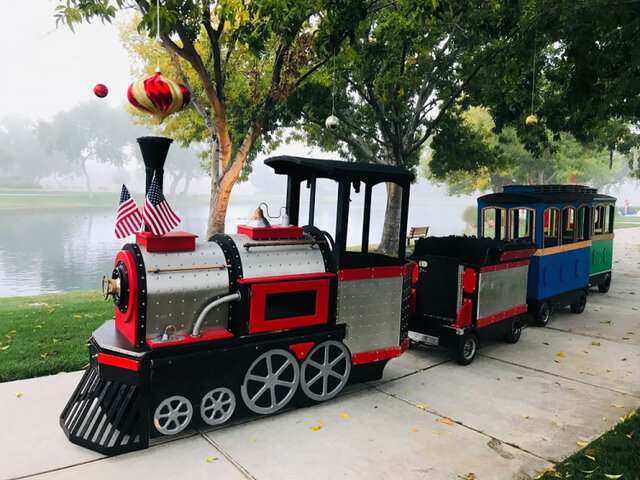 Trackless Train
Actual Size: 17'L x 3'W x 6'H
Setup Area: Large Parking Lot
Age Group: All Ages




Trackless Train Rental
Rent our Premium Wattman Electric Trackless Train for your next event today! These trains are exactly the model you see driving around in shopping malls. They are powered electrically so there is less noise ad no pollution! This train can be driven indoors or outside! This train must be driven on a smooth flat serface. This train rental is perfect for holiday parties and resort locations because it is so gorgeous and authentic! Rent an electric trackless train today! This electric trackless train must be used on concrete or asphalt. Our service includes 2 hours of party time with a train driver. Additional hours may be purchased. The trackless train rental will require a large open space or parking lot.
The Trackless Train Rental is exciting entertainment for kids birthday parties, your next event, and all festivals. Trackless trains can travel on large flat parking lots or grass field. Everyone can enjoy a ride on the Trackless Train Rental. Make sure to reserve the trackless train for your next event today!

The Trackless Train comes with a trained Conductor for everyones safety. If you ask nice you might even get to ring the trains bell. Make sure to wave to all your friends as you travel on the trackless train. The trackless train can voyage anywhere in Sacramento, Roseville, Lincoln Too. We can go just about anywhere with our trackless train.

Company Branding Wraps are available for your corporate events.

Best to call and reserve this item.
Pricing can go up depending on the hours needed, location, and type of event...
Just Call Us! We need to talk!
Why are you still thinking... Call us Now!

$1295 / 2 hrs. $375 for each additional hour.