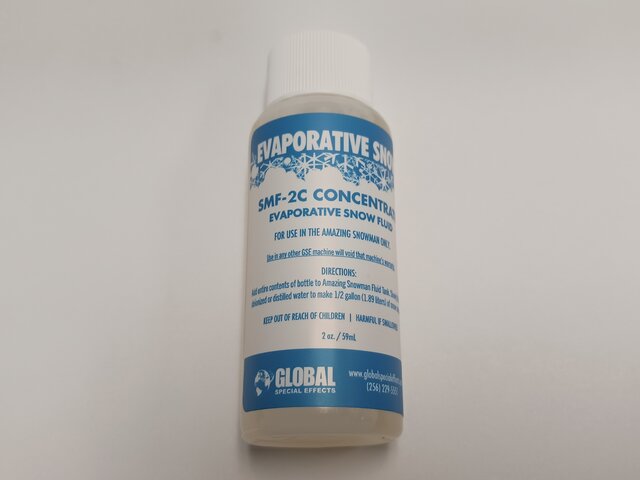 Snow Man Solution 1 hour
Actual Size: 3Wx3Lx4H
Setup Area: 15x15
Outlets: 1




Snow Solution For 1 Hour
Extra Snow Solution 2 Bottles (1 Hour)
Snow on any time makes it fun! Let it snow, let it snow, let it snow! Add Extra Snow Solution to the Snow Man to extend the White Chrismas feel on any day of the week!
2 Bottles of Snow Solution for an extra 1 hour of snow.To Ortder The Snow Man Click Here!
Evaporative Snow SMF-2C Safety Data Sheet According To Federal Register / Vol. 77, No. 58 / Monday, March 26, 2012 / Rules And Regulations Revision Date: 04/2021 Date of issue: 04/12/2016 Version: 1.0 SECTION 1: IDENTIFICATION 1.1. Product Identifier Product Form: Mixture Product Name: Evaporative Snow SMF-2C 1.2. Intended Use of the Product Use of the substance/mixture: Special effects 1.3. Name, Address, and Telephone of the Responsible Party Company Global Special Effects 11054 County Road 71 Lexington, AL 35648 256-229-5551/1-800-745-8599 www.globalspecialeffects.com 1.4. Emergency Telephone Number Emergency Number : 256-229-5551/ 1-800-745-8599 SECTION 2: HAZARDS IDENTIFICATION 2.1. Classification of the Substance or Mixture GHS-US classification Full text of hazard classes and H-statements : see section 16Signal Word (GHS-US) : Warning Hazard Statements(GHS-US) : H315 - Causesskin irritation. H319 - Causes serious eye irritation. H402 - Harmful to aquatic life. Precautionary Statements(GHS-US) : P264 - Wash hands, forearms, and other exposed areasthoroughly after handling. P273 - Avoid release to the environment. P280 - Wear protective gloves, protective clothing, and eye protection. P302+P352 - If on skin: Wash with plenty of water. P305+P351+P338 - If in eyes: Rinse cautiously with water for several minutes. Remove contact lenses, if present and easy to do. Continue rinsing. P321 - Specific treatment (see section 4 on this SDS). P332+P313 - Ifskin irritation occurs: Get medical advice/attention. P337+P313 - If eye irritation persists: Get medical advice/attention. P362+P364 - Take off contaminated clothing and wash it before reuse. P501 - Dispose of contents/container in accordance with local, regional, national, and internationalregulations.