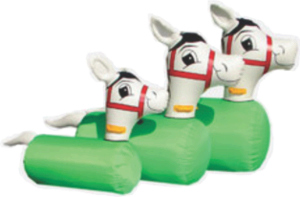 Pony Hops
Pony Hop Race
Pony Hops Only - Hop Hop Hop till you drop. How hard do you want to laugh? Pony Hops are so much fun for the hoppers and the spectators. Comes with 2 hops to race on grass. Racing Ponies are great for Corporate Events in Sacramento. Schools and Church Functions or Back Yard Parties are the perfect place to race from Roseville to Elk Grove.
Comes with 2 Pony Hops.
Can also be added with the race track!