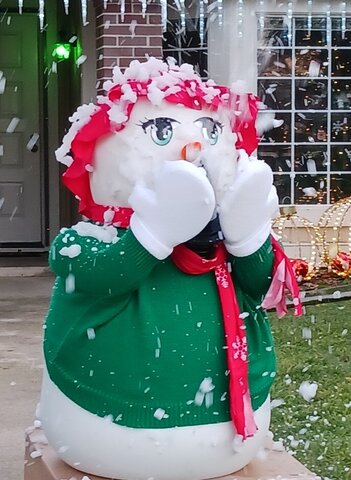 Christmas Snowman Snow Machine
Actual Size: 27 Inches Tall
Setup Area: 3x3x3
Outlets: 1
Age Group: All Ages




Description
Mrs. Snowman Snow Machine Rental
Snow Machine Mrs. Snow Man

Let it Snow, Let it Snow, Let it Snow! This Mrs Snow Man Snow Machine rental will let it snow at your next party so you can usher in the spirit of Christmas. This little snow machine will create a 15 to 20 foot snow fall area. It comes with enough solution to run for one hour. You can add additional solution to run for extra time.

Specifics on the Mrs. Snow Man Snow Machine Rental

Below you will find the specifics on the machine itself. This machine takes up little space and provides some fun snowfall. You will receive two bottles of mix. You mix 1 bottle of mix and half a gallon of water for 1/2 hour of fun. Add the other mix you receive and another half gallon of water once the first solution mixture runs out. Need more than an hour of snow? Rent more solution. Each additional solution setup is for 1 hour also.
Size of Unit: 27" Tall
Unit Weight: 20 pounds Electrical requirements: 10 amp, 110v circuits per machine.
Warm Up Time: None
Snow Fall Area: 15 to 20 feet
Evaporative Time: About 60 – 90 seconds
Snow Machine Controls: ON/OFF
Tank Capacity: One half gallon
Length of Snowfall Per full tank: Approximately 1/2 hour


Booking the Mrs. Snow Man Snow Machine Rental

Mrs. Snow Man Snow Machine provides time for exploration and the adventure of Christmas your next party! You can book easily online today to reserve the Christmas snow machine for your party or event. You simply press start reservation above or add to cart. Once you enter your party information and secure it with a deposit, you will be sent an email confirmation of your order.We Rent the Snow Machine to All Sacramento California Cities!


We Rent the Mrs. Snowman Snow Machine to Sacramento California Cities!
We rent Christmas bounce houses to the California Cities of Roseville, Rocklin, Lincoln, Granite Bay, Sacramento, West Sacramento, Rancho Cordova, Elk Grove, Antelope, Auburn, Carmichael, Citrus Heights, Colfax, Davis, Eldrado Hills, Elverta, Fair Oaks, Folsom, Grass Vally, Gridley, Loomis, Newcastle, Marysville, McClellen, Meadow Vista, North Highlands, Olivehurst, Orangevale, Weatland, Wilton, Woodland, Yuba City, and Yolo. Rent our Mrs. Snowman Christmas Snow Machine in Sacramento California Today!