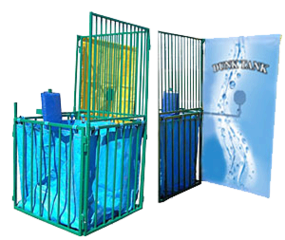 Dunk Tank Booth
Actual Size: 5x5x8
Setup Area: 20x20x10




Dunk Tank Booth
Also known as a dunking booth or dunking machine, is an attraction mainly used in funfairs, fundraisers, and personal parties. Basically, a dunk tank consists of a large tank of water, over which a seat is suspended. By striking a target, the seat will tip or fall into the tank of water, thus "dunking" whoever is sitting on the seat.
DUNKING TANK SAFETY RULES
Adult Supervision required at all times.
No Horse play around the Dunk Tank.
Keep Dunk Tank away from electricity.
Keep water level filled to at least 4" from top of tank.
Keep all non-swimmers & anyone less than 5' tall out of tank.
Only one person at a time allowed on seat or in tank.
Always wear tennis shoes to avoid slipping.
When tank is left unattended, ALWAYS drain water.
Never stand on the seat.
When sitting on the seat, keep hands on or under knees and sit forward.
Do not hit target with hands.
Do not operate Dunking Tank during a storm.