Welcome! We're so glad that you found us! Bookmark our website. Program our number into your phone. Take your time and look around. We hope to serve you and fulfill all your event or party needs. Our passion is helping you create a festive party providing your guests with many great experiences. If there is anything we can do for you or any questions we can answer, please don't hesitate to let us know. Thanks for shopping with us!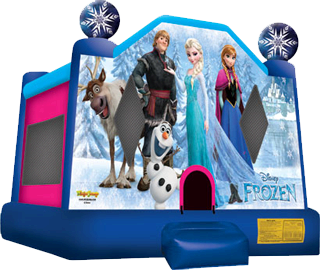 Sacramento's' Favorite Bouncer Rental!
To Book online, just select "Instant Prices & Availability" from top right, enter the date and time needed then fill up your shopping cart with what you want. If you would rather talk to a live human just give our office a call at (916) 548-7995, were open 7 days a week from 9am to 7pm. Remember if your booking for a church, school or any other type of non-profit organization give us a call for special pricing.
Pizza Party Packages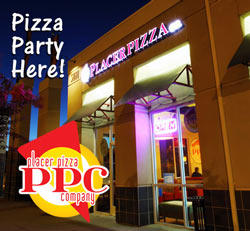 BounceyHouseRentals.com can bring pizzazz to your next party and turn it into a bouncing Pizza Party! Whether its' at your place or at the restaurant, we have a package that's just right for you.
Select your choice in size and attractions with one of our pizza party packages. You can have our Bounce House Party at Placer Pizza Company 5080 Foothills Blvd. in Roseville, or we'll deliver right to your door. Everything you need for a memorable celebration. Birthdays, graduations, or team championship, a Pizza Party is always a simple fun solution.
Are you looking for great party ideas in Sacramento and other surrounding areas? If so, you've come to the right place! Bouncey House Rentals has been delivering bounce house rentals, water slide rentals, and other great party rentals in Sacramento and other surrounding areas for over a decade. With so many years of experience delivering a good time, we know exactly what it takes to make your special event a HUGE success! We have an incredible selection of officially licensed bounce house rentals (like Disney Princess Castle, Justice League Bounce House, Dora the Explorer Bounce House, and many more) that are perfect for themed parties. We also have giant water slides rentals that will have your guests slipping and sliding all summer long.
Everybody Loves a Good Paint Job!
Get A Face Painting Artist for 1, 2 or 3 hrs.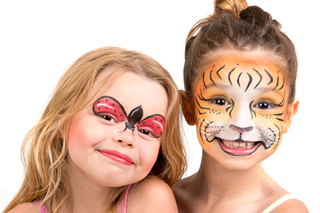 Bouncey House Party Rentals has the perfect solution for fun entertainment at your next party. Our talented Face Painting Artists will turn average into exciting with the great face art designs. Kids love love it, and even the teenagers and adults will get in line.
Yo Gabba Gabba! ~ 4 in 1 Combo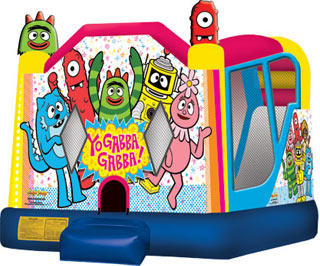 This 4-feature challenge is jam-packed with fun, offering a generous area of jumping area, basketball hoop, climb and slide. Inter-changeable art panels featuring your favorite, timeless characters and themes, adds versatility and 'play value'! Best of large colorful graphics of your favorite Gabba Gabba characters.
Bright and lively this combo rental offers more fun per square foot than any other! These units are built Ninja Tough! Super durability and safety are built right into each and every one from materials to workmanship and quality control.
© 2014 Bounce House Rentals, LLC. All rights reserved. Roseville, California (916) 548-7995 Web Design by